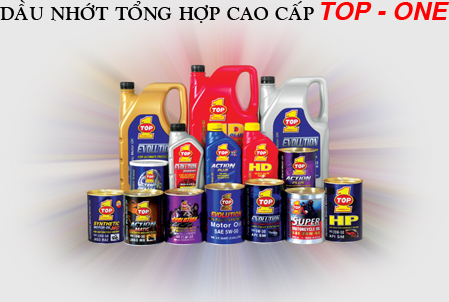 Wholesale and Retail Supply Import Topone Lubricating Oils 100% (production, packaging and packaging) in USA, No. 2000-km oil change 3000Km (the city) and 5,000 km (outside theschool). Here is a product and technical information of each type.

1.TopOne Super (SEA 20W-50 API SL, JASO MA )
Type of vehicles specially for the: Wave, Dream, sirious, v .. v ..
Retail Price: 95.000D / 1 Cans -> 90.000D / a Lon (800 ML)

2. TopOne Synthetic (SEA 20W-50 API SJ, JASO MA2 )


Type of vehicles specially for the: Wave, Dream, sirious, v .. v.. . Different types of this type into the drive scented
Retail Price: 95.000D / 1 Cans -> 90.000D / a Lon (800 ML)
Retail Price: 105.000D / 1 Cans -> 100,000 / 1 Lon (1000 ML)

3.TopOne AcTion Plus (SEA 10W - 40 API SJ, JASO MA2)

Specially prepared for the scooter, and car number have water tanks: Hayate, Novou LX, Exciter ... v .. v ..
Retail Price: 105.000D / a Porno -> 100,000 / 1 Lon (800 ML)
Retail Price: 125.000D / a Porno -> 120,000 / 1 Lon (1000 ML)

4.TopOne AcTion Matic (SEA 10W - 30 API SJ, JASO MB)
Specially prepared for all kinds of new scooter: Airblade, Click,LEAD, SCR v .. v .. Fuel savings and help the engine better performance and reduced fuel consumption.
Retail Price: 115.000D / a Porno -> 110.000D / a Lon

5. TopOne Evolution ( SAE 10W - 40; 15W - 50, JASO MA2 , API SJ)
100% synthetic type vehicles used exclusively for the high-4T,most modern, long-time oil change 2 -3 times, number of kmfrom the proposed 5,000 km oil change - 7000 km
Retail Price: 260.000D / a Porno -> 255.000D / a Lon (10W-40)
Retail Price: 250.000 VND / 1 Lon -> 245.000D / a Lon (15W-50)

6. TopOne AcTion MaTic Gear Oil ( SEA 80W - 90 )


Lubricating Gears: exclusively used for the scooter, higher density,saving time change.
Retail Price: 60,000.
To meet the diverse needs of customers, our company has imported from Thailand 2 new type transmission lubricant (not as dense asTop1) is STATES GEAR with a capacity of 120 ml for these scooterswith a capacity gearbox oil tank of 120 ml or more and YAMALUBE100 ml capacity for vehicles of YAMAHA.